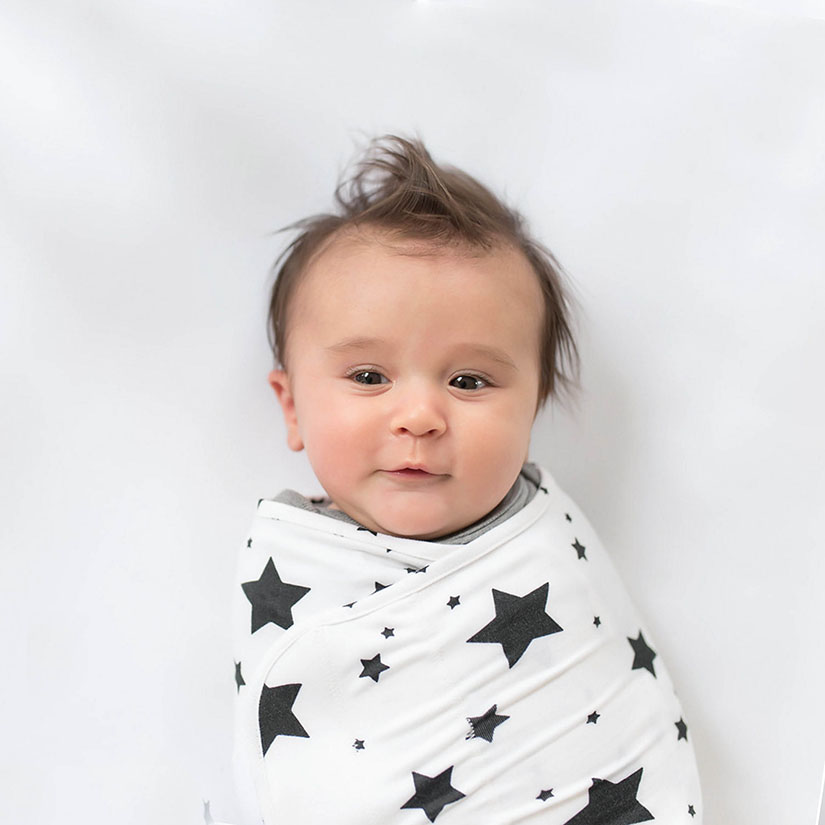 NüRoo Swaddler
+ 3 Sizes in 1 – A Perfect Fit for Every Stage
+ Approved for use with preterm and full-term babies
+ Choice of arm positions for baby
+ Easy stretch fabric
+ Wide leg pockets help promote healthy leg/hip development


OUR DETAILS MAKE ALL THE DIFFERENCE
LETTING BABY SLEEP JUST LIKE THEY DO IN YOUR ARMS.
Swaddling has been proven to help babies seep better and longer. But not all swaddles are created equal. We've taken the guess work out of wrapping with a blanket so you don't have to worry about loose blankets in the crib or the risk of swaddling too tight. With hours of research and lots of hands on experience, we've taken all the benefits of swaddling and created one form swaddle you just can't do without. Our signature fabric is incredibly soft and fully loaded with performance benefits like moisture-wicking properties to keep baby cool and dry, and our grow with me design makes it the only swaddle you'll need to buy!
3X
GROW WITH ME DESIGN
LASTS 3X LONGER
With three sizes in one, our grow with me design offers baby the perfect fit from birth – 6 months. Learn why sizing matters and the dangers of a "one size fits all" or ill fitting swaddle for baby.

SIZE 1 SMALL POCKET
BIRTH – 18"
SIZE 2 MEDIUM POCKET
18" – 24"
SIZE 3 GROW SEAM ADDS 4 INCHES
18" – 24" +

THERAPEUTIC BENEFITS
Compression fabric recreates the familiar, comforting in utero snugness + eases baby's transition from the womb.
Decreases irritability and promotes self-soothing
Enhances quality of sleep to improve rest and sleep cycle regulation

MOISTURE WICKING
Our signature fabric has the ability to pull sweat and moisture off baby's skin,passing it through the material and releasing into the air to keep baby comfortable and dry.
The breathable, moisture wicking properties help regulate baby's body temperature. This assists in weight gain by limiting brown fat stored in baby burns by working to cool down or stay warm.

EASE OF USE
See Swaddling Instructions



With a pocket for baby and hook and loop wings, the NuRoo Swaddler takes user error out of swaddling – even babysitters will have no problem getting baby cozily wrapped for bed. Place baby in pocket, position arms as desired, secure hook and loop across baby's chest. That's it… easy peasy! You can even use as an arms out tr ansitioner. Simple, safe and no cr azy wrapping to figure out.

Our lux fabric is uniquely suited for swaddling. Not only is it super soft, moisture-wicking and breathable, but deep pressure touch (like the gentle embrace created by our compression fabric), facilitates the release of dopamine, a 'pleasure' inducing chemical made in the brain. For babies, the presence of dopamine produces a calming, relaxing effect and will aid in drifting your little one to la-la land. That same stretchy compression fit takes the guesswork out of wrapping so you never have to worry about baby's swaddle being too loose and them breaking free or the opposite wrapped too tight providing concern for comprised respiratory function or hip dysplasia.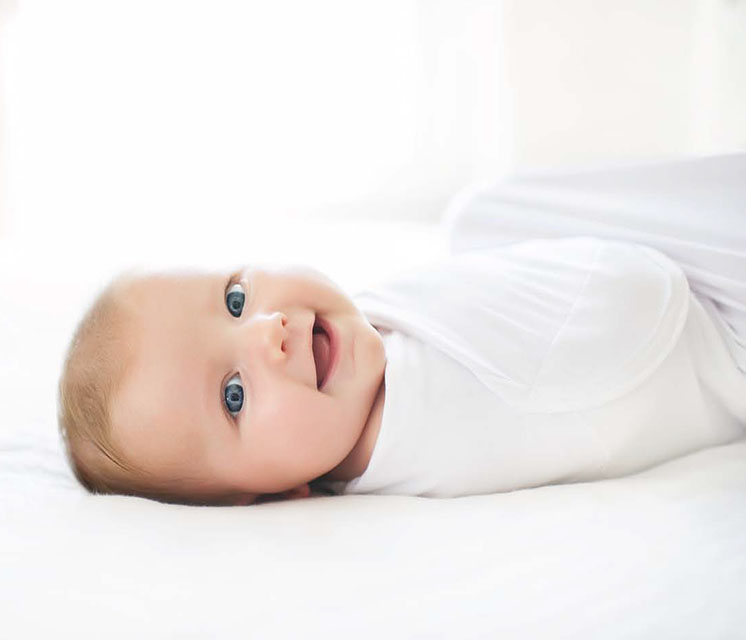 + FOR USE FROM BIRTH + PREEMIE APPROVED
You can use our Swaddle the day your baby is born, so be sure to wash and pack it in your hospital bag. It supports the Baby Friendly Hospital Initiative, is used by leading institutions and approved for use in the NICU with preterm infants.
+ MACHINE WASHABLE + DRYER SAFE
Caring for your NuRoo Swaddle is a piece of cake. After securing the hook and loop tabs, you can wash and tumble dry on regular cycle.
+ SUPPORTS HEALTHY HIP DEVELOPMENT

The Pocket has been acknowledged as a "hip healthy" product by the International Hip Dysplasia Institute, meaning that baby is in the proper M position making it ergonomic, and safe for baby's hips.
QUESTIONS?
HERE'S OUR MOST FREQUENTLY ASKED
Don't see yours listed below? We'd love to
hear from you!
HOW LONG WILL MY BABY FIT IN THE SWADDLE?
Our swaddle fits baby from birth to 28 inches long. Every baby grows at a different rate, so use is typically up to 6 months. You should discontinue swaddling with arms inside the pocket as soon as baby shows signs of rolling, but can swaddle with arms out + use your swaddle as a transitioner for as long as baby likes.
HOW DO I KNOW WHEN BABY IS READY TO GRADUATE TO THE NEXT SIZE?
Baby should have plenty of room to move and flex their legs freely, which is important for preventing hip dysplasia. When they are kicking and reaching the seam at the end of each pocket with legs straight, it's time to move to them to the next size.
HOW SHOULD BABY BE DRESSED UNDERNEATH?
Our signature fabric offers breathability and moisture-wicking properties to help with temperature regulation. However, the baby should be dressed appropriately for the season. In winter months or colder climates, the baby could have pyjamas or a onesie on. In summer months or warmer climates, the baby could simply be wearing a diaper when swaddled.
WHAT IS THE BEST POSITION FOR BABYS ARMS?
Babies are inherently used to crossing their arms over their chest, similar to their fetal tuck position inside the womb. However, placing arms at their sides or near their face for self-soothing are also considered "correct" placement, so we suggest you experiment + let baby decide what they prefer!