It's a New Year and we've embarked on a new adventure…  We're thrilled to announce that NüRoo has been acquired! Hope and I remain as committed as ever to the growth and vision of NüRoo and have officially joined the amazing team at Brownmed.  We couldn't be more excited about what's ahead!
In celebrating where we're going, we  wanted to pause to reflect on where we've been. Two and a half years ago, Hope & I met at a preschool parents' potluck dinner.  Hope had an idea around the practice of skin-to-skin contact and was looking for new moms to discuss it with. As fate would have it, at the time I was on maternity leave with my youngest daughter.  We struck up conversation and three and a half hours later, after everyone else had said their goodbye's, we were still standing in that same corner talking.  Hope, with a background in medicine and I (Daniela), in marketing, became magnetic over what this idea could grow to be.  From our own experiences with skin-to-skin, we knew how vital the practice was for both moms and babies.  But with older children and active families at home, we also knew how difficult it was to find time to spend skin-to-skin with baby.  We flew through the final month of my maternity leave exploring how to finesse Hope's idea about a product that could support mom and baby in this very important practice, and the NüRoo Pocket was born.  We haven't looked back since.
What's that age old saying? If you build it, they will come.  Morning, noon and night, we worked our tails off.  We've traveled the country, running from airport to airport, conference to conference, retailer to retailer.  We've talked to moms, listened to moms, cried with moms, laughed with moms.  And worked some more.  It certainly wasn't easy but we were seeing progress.  We had big goals and big dreams for this little company we created, and it was always our vision and passion that drove us.  NüRoo was here to support moms and babies.

Two years later, we got to the (thrilling!) point where we had taken NüRoo as far as we could with just the two of us. We would chuckle when people would ask how many employees we had and our response was always "you're looking at 'em".  We knew that if we wanted to continue to grow our vision of NüRoo, we needed more expertise, support and resources.
And today, it is with much joy and excitement that we officially share the news! NüRoo has been acquired by a fantastic company, Brownmed.  Brownmed creates a variety of products, all tied together by a common goal: improving lives.  It is their singular mission.  Given that NüRoo products are designed to foster the bond between mom and baby allowing for early advantages, you can see that our missions were aligned from the start.
We jokingly tell people that between Hope and I, we have 9 kiddos. Hope has 3, I have 5, and we count NüRoo as our baby!  That said, we talked to several different companies throughout our journey to being acquired.  But from the beginning, Brownmed was different.  From the beginning, we understood that family was at the core of their business, and they understood that family was at the core of ours.  Ivan Brown, Brownmed's CEO, told us many stories about how family had impacted their business and how the company had many times, had the opportunity to positively impact the lives of its employees' families.  Story after story, we were thoroughly impressed.  These were not the kinds of details other companies were telling us. Brownmed didn't just talk the talk, they walked the walk.
Equally as important, Hope and I were needing balance in our personal lives.  Our families had been amazing champions on this journey, but we were yearning for a bit more time to support our very important people at home.  As they've done for other employees, Brownmed offered us the amazing opportunity to continue to do the work we love, but with a flexible schedule.  We get to have our cake and eat it too!
For us, these differentiations made all the difference. We'd found a company that had a mission we could get behind, a strong desire to support mom and baby, a wealth of experience in the medical space, global reach, proven expertise and efficiencies for bringing quality products to market. We'd found the right company, indeed!
All this excitement has called for celebration!  Hope, myself, our husbands and NüRoo's CIO's (Chief Inspiration Officers) recently toasted the success and love this company has brought us with dinner at our local hibachi joint.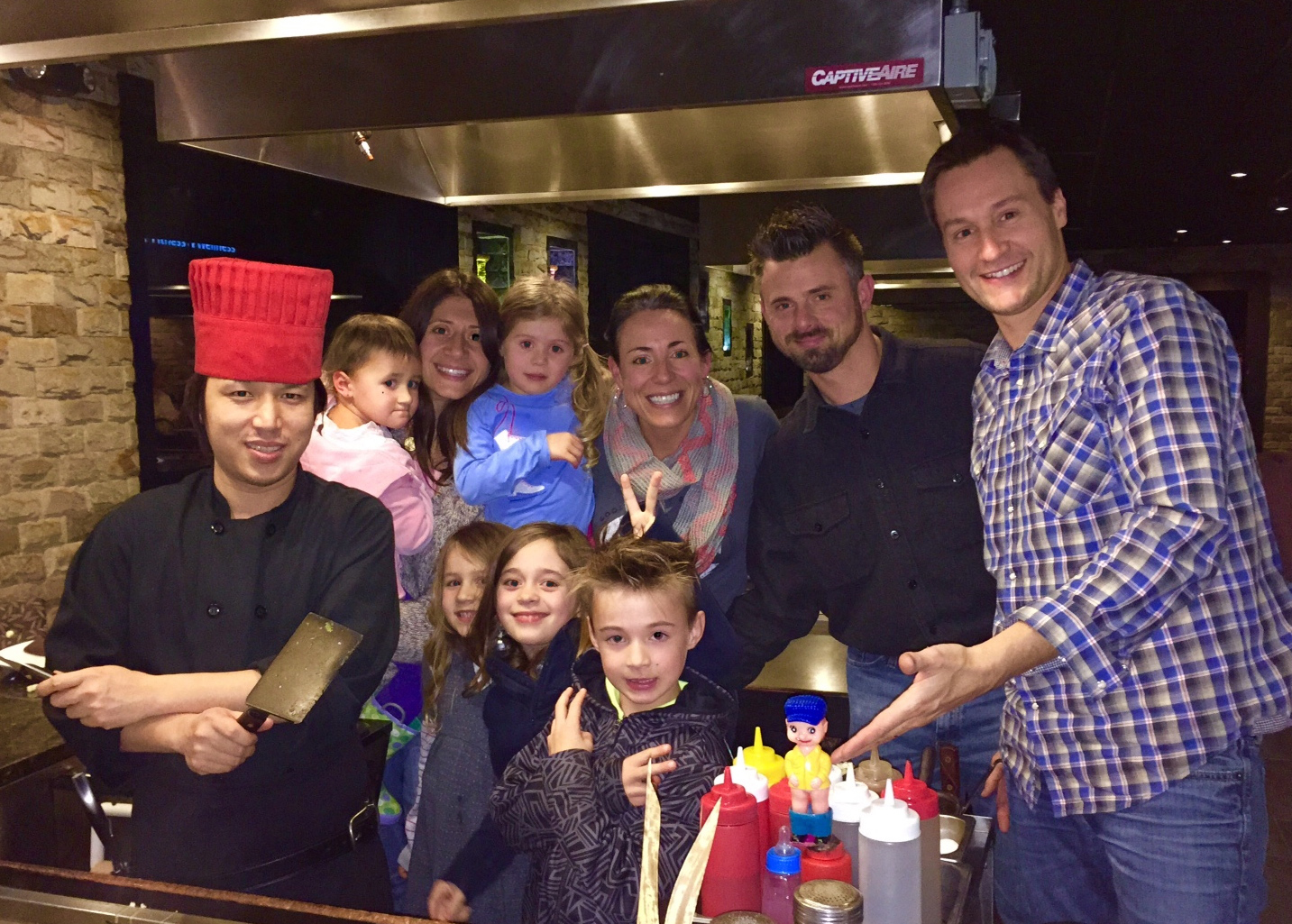 It is only right to send an apology to you, our fans and customers, for being so distracted these last few months. We weren't able to share the details of what was going on but the contracts and negotiations surely occupied most of our time. We're sorry to say we couldn't keep up with emails and social media as we would have liked to. Fingers and toes crossed you understand and can forgive us. Know that now, we're back in action!
With a new year upon us, new goals, new challenges, new opportunities and new milestones await. We couldn't be more excited to tackle it all, proudly, as Brownmed employees.  We are now better prepared to support, and as of today, our social media will be back up and running.  We promise BIG plans for the future.  Bring it on, 2015!
Love, Daniela + Hope