March 22-28 is World Doula Week
We're celebrating the end of World Doula Week by bringing you 4 reasons why being a doula is best, from our friends at Brilliant Bodies.
People always ask us why we decided to become doulas in the first place. While there are many reasons (we could go on and on) it is more fun to talk about why we wake up every morning and decide to keep doing this work.
Even though we feel very  lucky to do this work, there are also many times when we question if we can continue because we are so exhausted. Or times when we want to travel and can't because we're on call. Or times you have to leave your husband's 40th Birthday surprise party to join a client. And yet, despite the craziness, lack of sleep and all the unknowns, we keep at it and LOVE it. Here are some of the reasons why we're committed to doing this work and celebrate World Doula Week.
Fighting the good fight​.​
Teaching our clients about informed consent and helping them understand what their options are before labor, and then advocating for them in the hospital is one of the things that drives us the most. Most people come into pregnancy not even knowing they have options or are not used to trusting the system without questioning what that means for them. Reminding people that it's ​their​ birthday party and that, by law, they have the right to be active participants in all the decisions along the way, is one of the most transformative aspects of our work, and the one that has the biggest impact in terms of outcomes.
Our clients.​
We work with all kinds of families, with all kinds of birth preferences, giving birth in all kinds of birth settings. We feel so privileged to get a sneak peek into so many people's relationships and homes. Its fascinating. The one thing that never ceases to amaze us is watching people come into their bodies and begin trusting their instincts in ways we are typically so removed from. It's incredibly humbling and inspiring and takes a lot of strength- especially when decisions have to be made that are not quite "according to plan." We get to watch people become true warriors and then transform into parents-it's badass!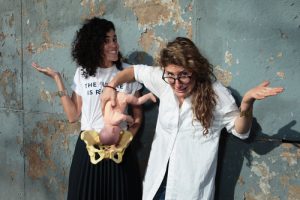 Birth is just that cool​.
We're nerds, we know. But the ways in which the body transforms and collaborates in labor is just unbelievable. All the perfectly orchestrated hormones and communication between baby and parent in utero is just awesome. And we learn so much from labor that we really apply philosophically to our everyday lives (check out thisishowiwasborn.com​!). Labor and birth is such a great reminder that while we can influence, we can't control. And in many ways, this is actually very comforting.
The babies​.
This is the obvious one but really, being there when those cute little humans are born is mind blowing. It's a miracle that doesn't cease to amaze us. It might seem like a little alien is being born at first, but then they come out and they are all perfect and cute and delicious. And yes, even 150 births later, we still get teary eyed! It doesn't get old.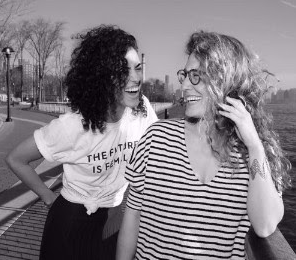 About Brilliant Bodies: Natalia Hailes and Ashley Spivak are Birth Doulas and Reproductive Health Advocates. Natalia and Ashley are co-creators of Brilliant Bodies, which partners with like-minded businesses to facilitate creative solutions for pressing issues in the reproductive health space. Brilliant Bodies is producing CYCLES+SEX, the first of its kind "happening" to celebrate and educate the interconnections of our menstrual, hormonal, reproductive and sexual health for overall well-being and autonomy on April 30th in Hell's Kitchen.​ To learn more fun facts about the brilliance of your body follow Brilliant Bodies on Instagram.